Unstoppable, the next edition.
The business event for the aspiring entrepreneurs, CEOs and business owners of the new era.
By Business Maverick Andy Nijs.
Visionair, let your brand fly!
12 October'23, Brussels 
91 business owners joined us for our previous event.
And this one, we're going for harder, better, faster and stronger.
Welcome to the new era. The world is constantly changing. Entrepreneurship has evolved. Have you?
This new era is calling for new ways of positioning
and selling your products or services, collaborating over competing,
truly creating raving fans and building your strategic alliances and partnerships.
And above all, claiming your authority in and beyond your industry and prospering your personal brand!
This new era is calling for new leadership, one of being real, vulnerable and audacious.
Find your voice, build your brand, be seen. 
Future-proof your business, your audience, and yourself by skyrocketing your brand. 
Claim your seat to be drenched in the Visionair Universe. The entire event will be in English.
Move over Barbie, Visionair is here.
There is nothing that says 'next level event' like a branded selfie generator, am I right?! Whether or not, you'll be joining us on the 12th of October, generate your selfie too and share it with us.
As a founding member, I am delighted to host my event at The Merode. This club expands consciousness through powerful conversations about our collective future. A space to support entrepreneurs and high-growth businesses at the forefront of innovation and change.
Find your voice, build your brand, be seen.
A full day of accelerated growth, action and transformation. And your Unstoppable tribe of brilliant minds that come together like family.
Being an entrepreneur requires having a feeling of ownership. Excelling in being, feeling and doing. It takes bold moves, becoming a strategist, building your action-powered community,  and creating a lasting impact on your audience.
During this epic day & evening event, you'll take your game to a whole new level. Future-proof your business, your audience and yourself by skyrocketing your personal brand.
You'll gain invaluable insights into the mindset of 7-figure earners, and their business, authoritative, and personal branding strategies. From owning your own voice, the room, to even the stage and building your worldwide movement.
You'll also learn about the power of investing, building your action-powered community by networking with powerful people, and the dynamics of becoming a true influence within your industry and beyond.
Secure your spot at this unparalleled event. Surround yourself with winners and leaders.
Special surprises await the participants that buy the Unstoppable ticket. That means you come for the day and evening program. Once you have bought your ticket, you'll be notified of the surprises.
Professional Relationship Building
Surprises, Food & Celebrations
During The Day: Your Speakers
This time, top speakers are once again taking the stage to take you on the journey towards 'The New Era'. From being audacious, owning the room, and  creating real influence, to being strategic, daring to be vulnerable and building your network. We are going to work on your brand, not your company.
Andy Nijs 
Your Business Maverick & Rebel and founder of 'The Unstoppable Events'.
My playground is the world and I challenge you to come and play with us, in the League of Unstoppables.
It's time to embody who you need to be to create your business legacy. I'll share the stage with amazing daredevils, entrepreneurs and trailblazers.
Katrin van de Water. 
Katrin Van de Water is the high-end business mentor of the Belgium. She guides coaches, trainers, and consultants with revenues of €+150K who want to break through their energy and revenue ceiling by targeting the top end of the market.
She is also the founder of the taboo-breaking podcast Millionaire Women where she talks to female millionaires. It's her life mission to make financial abundance the new normal.
Timo Marcus.
Timo lived on stage being a business builder and entrepreneur in every vain. People started asking him to speak his mind on stage on real-people-marketing as he spent over 10 years in chief roles at marketing-driven companies such as one of the world's biggest search engines. After starting five owned businesses he now offers others support by building their strong human-centered-market-approved-foundation in their business.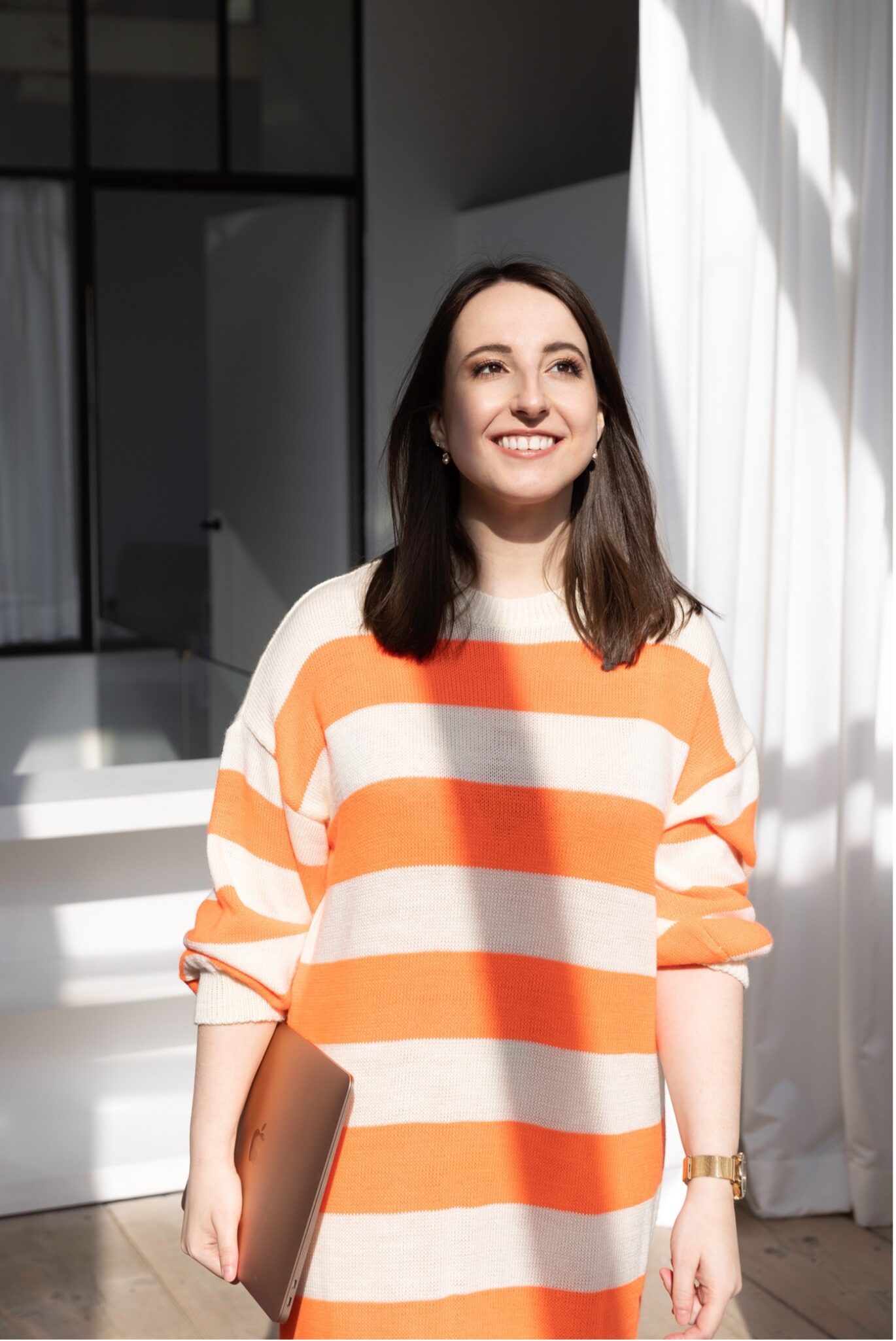 Laure Oomens.
Laure Oomens is a writer, copywriter and story shaman, with whom entrepreneurs dare to engrave their essence in the hearts of their audience. She believes that, if you want to create an exceptional brand, you have to come to terms with yourself and embrace every part of yourself first. The next step? Translating the full kaleidoscope of your being to your communication, meaning your website, your social media, … even your e-mails. That means daring to open up, to be vulnerable and to show up as you really are.
Stefanie van Moen.
Stefanie is a passionate speaker trainer, TEDx coach, and author who believes that everyone is able to own the room. Great speakers are not born, they are trained! From crafting the perfect icebreaker to receiving thunderous applause, Stefanie is here to guide you every step of the way. Let's create a lasting impact together!
The Evening: Building your support system
To move forward, you have to give back. And I don't mean a free ebook or webinar for your audience. I mean truly favoring other entrepreneurs their successes. This philosophy has led to wonderful milestones in my business.
And also daring to ask what you truly need to build the company of your dreams and develop your supportive action support system. Collaboration over competition.
In the evening, my event enables you to forge these deep friendships with amazing people who will help nurture and support your business & grand visions. You may walk away with a new business partner, precious phone numbers, new clients or actionable advice.
We partner with Conversation Starter to give you the best possible networking experience. Create your profile, and invite other participants and plan your meetings upfront.
Ready to fly to the new era with us?
Pick your experience and buy your ticket.
What's included in your ticket?
Admission to the day event from 1 to 5 pm
5 speakers on the stage
Break of 30 mins
Food & beverage: Aramotised waters, fresh juices, kombucha, fruits and sweets
This 3rd wave of tickets is available until the 30th of September. Then the price goes up.
What's included in your ticket?
Admission to the full experience from 1 to 9 pm
Food & beverage: Day event and in the evening open bar, apéro with appetizers & walking dinner (3 courses & dessert)
Networking through Conversation Starter
Relationship building & generating business
Party with DJ
The Unstoppable fashion item
Please note that for this ticket special surprises are foreseen during the day (between 5 and 6 pm).
This 3rd wave of tickets is available until the 30th of September. Then the price goes up.
What's included in your ticket?
Admission to the evening event from 6 to 9 pm
Food & beverage: Open bar, apéro with appetizers & walking dinner (3 courses & dessert)
Networking through Conversation Starter
Relationship building & generating business
Party with DJ
This 3rd wave of tickets is available until the 30th of September. Then the price goes up.
You want to stay for the night in Brussels?
I got you covered.
You want to stay in Brussels the evening before or on the evening of the event? Wonderful. We love to take care of you and provide the ultimate Unstoppable experience.
We have organized a special deal with the following hotel:
Hilton Brussels Grand Place
Carrefour de l'Europe 3 – Brussels 1000
Just in front of the Brussels Central train station.
Request the information to reserve your room (single, double executive room or junior suite) with breakfast included via mail at events@andynijs.com.
Our Unstoppable Crew will further assist you.
Our action-powered community
At The Unstoppable events, you will be just as inspired by the person sitting next to you as the person speaking on stage. The best part is – you're not just attending one event. You're joining a community of brilliant people who meet regularly and support each other in their journey to make an impact on the world. Once you attend you'll never feel alone again.
Find your voice, build your brand, be seen. The new era of entrepreneurship awaits you. We are excited to take you on a journey of becoming a true Visionair. Be ready to be wowed. Out with old, in the with bold.
Andy acquired a vast experience of +15 years in the corporate world.  From setting up an international call centre to leading international teams across Europe. Today, he runs a successful business. Andy is known for his amazing network of international legends. Andy differentiates himself by leading by example and building real influence within the Belgian coaching & entrepreneurial industry.
ERA has a double meaning and also stands for Engineering, Radical Honesty and Audacity. The topics will range from building real influence and your support system, owning your voice, the room, the stage to becoming real, vulnerable yet strategic and audacious to truly developing precious business relationships. You'll walk away with a bag full of actions on how to truly build your authority in and beyond your industry and prosper your personal brand.
Our ideal participants fall into one of these categories: Business Starters, Off- and Online Business owners , CEOs, Founders, Entrepreneurs and Freelancers.
You can buy your ticket for the event until the tickets are sold out. We have 200 seats available. The closing date is the 6th of October 2023.
When you come to the day event, you have the possibility to network during the 30 mins break. To truly build relationships and network, we advise you to come for the day and the evening program. From 1 pm until 9 pm, with the specific network evening through Conversation Starter starting at 6 pm. Plenty of time to mingle and get those phone numbers.
The location of the event is in the heart of Brussels.
Closest parking: Interparking Parking Poelaert
Closest train station: Brussels, Central
Closest tram station:  92/93, stop Poelart
Closest metro station: 2/6, stop Louise
Yes, we have a special deal with Hilton Brussels Grand Place. Just in front of Brussels Central Station. Request your code by writing an email to: events@andynijs.com
Get in touch with our Event Manager.
We're here for you. You can contact the event manager, Sarah Gomez directly at events@andynijs.com.